Black Friday is a shopping day for various reasons. Being the first day after the last major holiday before Christmas, it marks the unofficial beginning of the Christmas shopping season. Additionally, many employers give their employees the day off as part of the Thanksgiving holiday weekend. In order to take advantage of this, virtually all retailers in the country, big and small, offer various sales including limited amounts of doorbuster items to entice traffic. The early 2010s have seen retailers extend beyond normal hours in order to maintain an edge or to simply keep up with the competition. These hours may include opening as early as 12:00 a.m. or remaining open overnight on Thanksgiving Day and beginning sale prices at midnight.
Black Friday at fiveOTA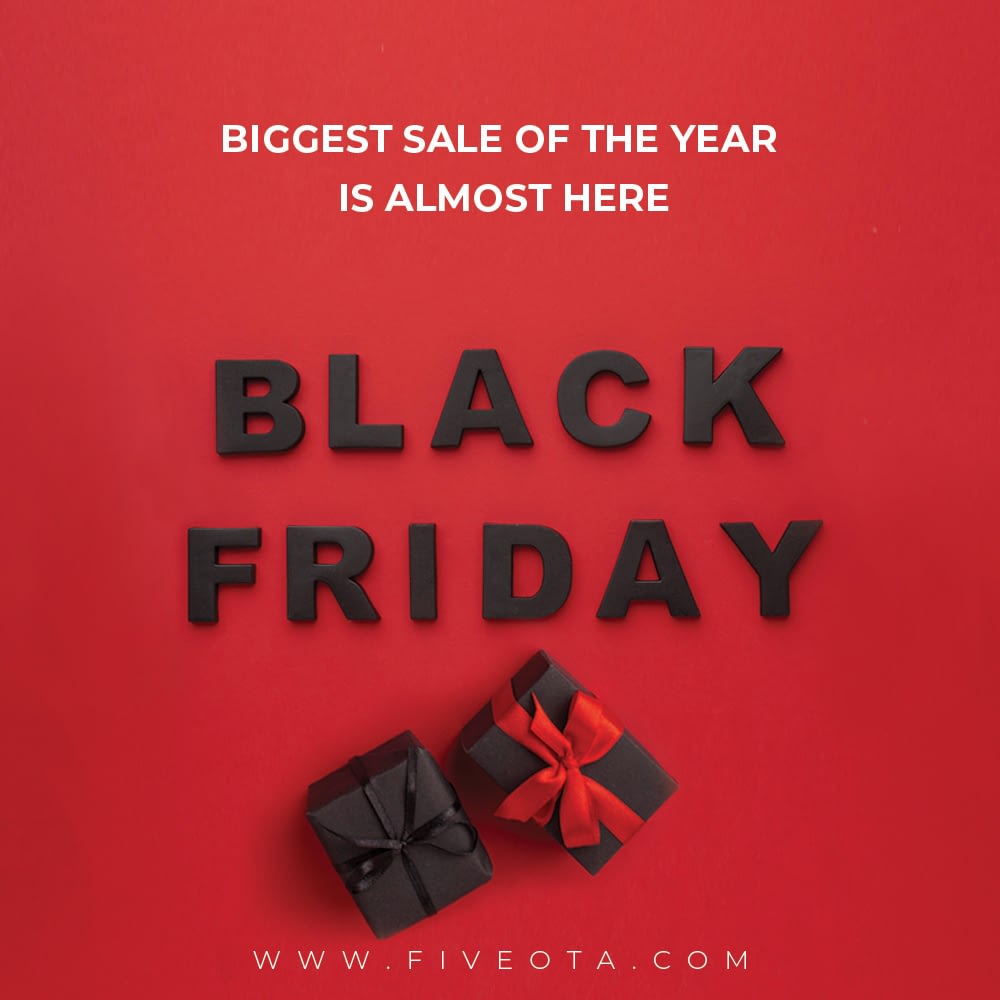 The current scenario itself evidences how much of an important role your device plays in your daily routine. From your laptops to smartphones, one really can't pull out through a day without them. We are very well aware of how much you are in awe with your device. Although smartphones are already packed with all the accessories but with the changing perspectives we have taken a step ahead with 'personalization'.
But not all brands provide qualitative personalization!
Have you ever thought of making your smartphone smart from its appearance?
Well, fiveOTA has already thought of that, we started as young individuals who were very curious to explore and experiment something new and showcase a totally different perspective. When we look back we have come a long way with qualitative improvement and we have a lot more to go. FiveOTA precisely crafts your smartphone's skin with qualitative material, endless options and precision as never before.
We provide a large variety of different materials and textures which includes : wood, leather, stone, camo, matte, carbon fiber and many more which you can customize as per your will. We do not limit customization here; we also provide features of tilt cut as well as parallel cut. You can mix and match different colors and materials and give your device a style statement. We currently provide skins of 12 brands and over 120 plus models like iPhone 12, Samsung S20, Asus ROG 3, etc.. After applying fiveOTA skins it would no longer look like an accessory but as a part of your smartphone giving you a soothing feel. Considering the application of our product we have even provided guidelines on our website with a tutorial video.
When we talk about shipping and delivery; you would be glad to know that we provide free delivery and shipping. Our relationship as a firm does not end here; you can always reach to us through our website or through our instagram handle for any queries.
FiveOTA is way ahead than the competition in the matter of black friday deals. Looking back towards the past year trends our sales have shown an impressive increase every year. We believe in sharing happiness and satisfaction unlike the market.